Citation
Edit
Board of Governors of the Federal Reserve System, Consumers and Mobile Financial Services (Mar. 2012) (full-text).
Overview
Edit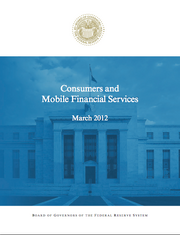 Mobile devices have increasingly become tools that consumers use for banking, payments, budgeting, and shopping. This report presents findings from an online survey, conducted in December 2011 and January 2012, examining the use of mobile technology to access financial services and make financial decisions.
Key findings of the survey include:
See also
Edit
Ad blocker interference detected!
Wikia is a free-to-use site that makes money from advertising. We have a modified experience for viewers using ad blockers

Wikia is not accessible if you've made further modifications. Remove the custom ad blocker rule(s) and the page will load as expected.