Citation
Edit
The White House, Consumer Data Privacy in a Networked World: A Framework for Protecting Privacy and Promoting Innovation in the Global Digital Economy (Jan. 2012) (full-text).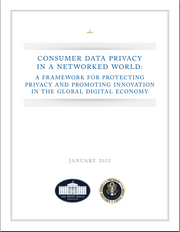 Overview
Edit
At the center of this Framework is a Consumer Privacy Bill of Rights, which embraces privacy principles recognized throughout the world and adapts them to the dynamic environment of the commercial Internet. The Report calls on Congress to pass legislation that applies the Consumer Privacy Bill of Rights to commercial sectors that are not subject to existing Federal data privacy laws.
Stakeholders — companies, privacy and consumer advocates, international partners, State Attorneys General, Federal criminal and civil law enforcement representatives, and academics — will be asked to develop codes of conduct that implement the Consumer Privacy Bill of Rights. Such practices, when expressly and affirmatively adopted by companies subject to Federal Trade Commission (FTC) jurisdiction, will be legally enforceable by the FTC. The United States international partners will be asked to create greater interoperability among their respective privacy frameworks. This will provide more consistent protections for consumers and lower compliance burdens for companies.
Seven core principles
Edit
The Framework centers on the Consumer Privacy Bill of Rights, which contains seven core principles relating to personal data:
Ad blocker interference detected!
Wikia is a free-to-use site that makes money from advertising. We have a modified experience for viewers using ad blockers

Wikia is not accessible if you've made further modifications. Remove the custom ad blocker rule(s) and the page will load as expected.