Citation
Edit
Dr. Mary Manjikian, Confidence Building in Cyberspace: A Comparison of Territorial and Weapons-Based Regimes (Apr. 1, 2015) (full-text).
Overview
Edit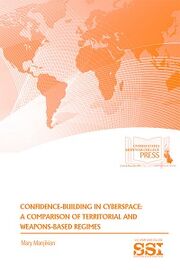 An analysis of weapons-based confidence-building measures shows how academics can work together to self-police their research for national security implications, socialize new members of the academic community into the importance of considering security issues, and develop and disseminate norms regarding what is and is not a moral and ethical use of these technologies.
It may be possible for academics and policymakers to come together to work for a ban or build-down on cyber weapons patterned on international efforts to ban chemical and biological weapons and implement export regimes to control the export of code which may form the components of cyber weapons.
If we conceptualize cyberspace as territory, we can also learn from the example of territorially-based confidence-building measures such as those implemented along the Indo-Pakistan border. This approach stresses the importance of developing notification procedures to prevent misperceptions and the escalation spiral, as well as communicating regularly to establish trust between all parties.
The case studies presented illustrate the promises and pitfalls of each approach and offer valuable warnings to policymakers seeking to implement such measures in cyberspace. They show what happens when not everyone in a regime is equally committed to a specific outcome by illustrating the difficulties of monitoring compliance in confidence-building regimes, and show the ways in which doctrines and confidence-building measures may not be perfectly aligned.
Ad blocker interference detected!
Wikia is a free-to-use site that makes money from advertising. We have a modified experience for viewers using ad blockers

Wikia is not accessible if you've made further modifications. Remove the custom ad blocker rule(s) and the page will load as expected.