Definition
Edit
A community cloud is a cloud infrastructure that is shared by several organizations and supports a specific community that has shared concerns (e.g., mission, security requirements, policy, and compliance considerations). It may be managed by the organizations or a third party and may exist on-premise or off-premise.
Overview
Edit
Figure 12 depicts an on-site community cloud comprised of a number of participant organizations. A cloud consumer can access the local cloud resources, and also the resources of other participating organizations through the connections between the associated organizations. Figure 13 shows an outsourced community cloud, where the server side is outsourced to a hosting company. In this case, an outsourced community cloud builds its infrastructure off premise, and serves a set of organizations that request and consume cloud services.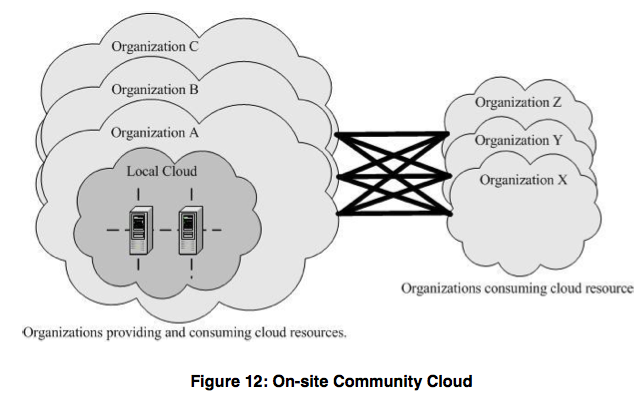 Ad blocker interference detected!
Wikia is a free-to-use site that makes money from advertising. We have a modified experience for viewers using ad blockers

Wikia is not accessible if you've made further modifications. Remove the custom ad blocker rule(s) and the page will load as expected.