Definition
Edit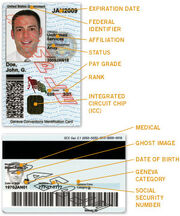 The U.S. Department of Defense Common Access Card (CAC) is a smart card currently held by more than three million DoD civilians and contractors worldwide. The DoD began issuing its CAC in October 2006. Pursuant to the Homeland Security Presidential Directive 12 (HSPD-12), the card contains advanced technology, which will enhance the security of federally-controlled facilities and computer systems and ensure a safer work environment for all federal employees and contractors.
External resource
Edit
Ad blocker interference detected!
Wikia is a free-to-use site that makes money from advertising. We have a modified experience for viewers using ad blockers

Wikia is not accessible if you've made further modifications. Remove the custom ad blocker rule(s) and the page will load as expected.