Overview
Edit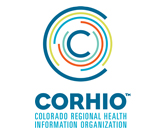 The Colorado Regional Health Information Organization (CORHIO) is a nonprofit, public-private partnership that has implemented a secure, electronic health information exchange (HIE). As the state designated entity for HIE, CORHIO collaborates with all health care stakeholders including physicians, hospitals, clinics, public health, nursing homes, home health, laboratories, health plans and patients.
Ad blocker interference detected!
Wikia is a free-to-use site that makes money from advertising. We have a modified experience for viewers using ad blockers

Wikia is not accessible if you've made further modifications. Remove the custom ad blocker rule(s) and the page will load as expected.