Citation
Edit
Federal Trade Commission, Careful Connections: Building Security in the Internet of Things (Jan. 2015) (full-text).
Overview
Edit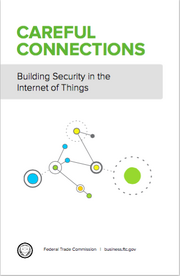 The Internet of Things has the potential to offer enormous benefits to consumers. Innovative companies are already selling connected devices, apps, sensors, services, etc. But businesses need to consider security, too. As with any online activity, it is important to protect consumers' sensitive data from thieves.
The Internet of Things, however, adds new security dimensions to consider. Based on input from industry, consumers, academics, and others, the FTC has a series of steps for companies to consider if it is designing and marketing products that will be connected to the Internet of Things.