Overview
Edit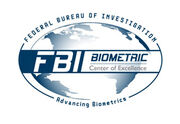 The FBI's Science and Technology Branch created the Biometric Center of Excellence (BCOE) to strengthen its ability to combat crime and terrorism with state-of-the-art biometric technology.
Services
Edit
The BCOE services fall into three categories:
Biometrics & Emerging Technologies (Technology Services): Sponsoring targeted applied research and prototyping activities, facilitating the test and evaluation of emerging technologies and systems, incrementally expanding the FBI's certified products list, and participating in standards development activities. The BCOE will champion the internal and external development of technology to accelerate the delivery of biometrics and identity management capabilities and to support multimodal system development and system interoperability.
Collaboration & Information Sharing (Relationship Management Services): Focusing in two areas: (1) building and maintaining key domestic and international relationships needed to bridge the gap between promising biometric research and operational needs and (2) engaging a team of experts to address privacy and other important legal, policy and procedural issues related to research, standards development, functionality, data management, and deployment of biometric systems.
Enhancing Stakeholder Capabilities (End User Services): Providing expanded training offerings and certification curriculum to law enforcement and national security partners to prepare for the emergence of new biometric capabilities. The BCOE will also provide hosting and other services (data center, system administration, continuity of operations, and examiner services) for agencies that would benefit from the FBI's expertise and economies of scale.
Ad blocker interference detected!
Wikia is a free-to-use site that makes money from advertising. We have a modified experience for viewers using ad blockers

Wikia is not accessible if you've made further modifications. Remove the custom ad blocker rule(s) and the page will load as expected.