Citation
Edit
David J. Roberts & Meghann Casanova, Automated License Plate Recognition Systems: Policy and Operational Guidance for Law Enforcement (Sept. 2012) (full-text).
Overview
Edit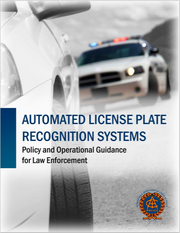 This project was designed to assess and document Automated License Plate Recognition (ALPR) implementation and operational experiences among law enforcement agencies in the United States, and to identify emerging implementation practices to provide operational and policy guidance to the field.
This report includes sample ALPR policies from several jurisdictions to assist readers in developing their own policies.
Ad blocker interference detected!
Wikia is a free-to-use site that makes money from advertising. We have a modified experience for viewers using ad blockers

Wikia is not accessible if you've made further modifications. Remove the custom ad blocker rule(s) and the page will load as expected.