Overview
Edit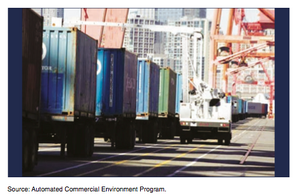 The Automated Commercial Environment (ACE) is a system developed by U.S. Customs and Border Protection (CBP) to automate and consolidate border processing. ACE is a centralized access point that connects CBP, the trade community, and other government agencies. The development of ACE began in 2001 as a replacement for CBP's Automated Commercial System (ACS), an older trade information database.
The purposes of ACE are to streamline business processes, facilitate growth in trade, ensure cargo security, provide the tools to monitor the movement of individuals and materials into and out of the country, and foster participation in global commerce.
Ad blocker interference detected!
Wikia is a free-to-use site that makes money from advertising. We have a modified experience for viewers using ad blockers

Wikia is not accessible if you've made further modifications. Remove the custom ad blocker rule(s) and the page will load as expected.