Citation
Edit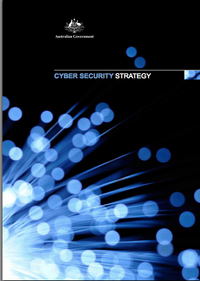 Government of Australia, Australian Government Cyber Security Strategy (Nov. 23, 2009) (full-text).
Overview
Edit
This Strategy articulates the overall aim and objectives of the Australian Government's cyber security policy and sets out the strategic priorities that the Australian Government will pursue to achieve these objectives. The Strategy also describes the key actions and measures that will be undertaken through a comprehensive body of work across the Australian Government to achieve these strategic priorities.
Ad blocker interference detected!
Wikia is a free-to-use site that makes money from advertising. We have a modified experience for viewers using ad blockers

Wikia is not accessible if you've made further modifications. Remove the custom ad blocker rule(s) and the page will load as expected.