Citation
Edit
Thomas M. Chen, An Assessment of the DoD Strategy for Operating in Cyberspace (Sept. 23, 2013) (full-text).
Overview
Edit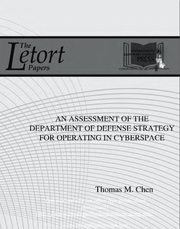 This monograph is organized in three main parts. The first part explores the evolution of cyberspace strategy through a series of government publications leading up to the DoD Strategy for Operating in Cyberspace. In the second part, each strategic initiative is elaborated and critiqued in terms of significance, novelty, and practicality. In the third part, the monograph critiques the DoD Strategy as a whole.
Ad blocker interference detected!
Wikia is a free-to-use site that makes money from advertising. We have a modified experience for viewers using ad blockers

Wikia is not accessible if you've made further modifications. Remove the custom ad blocker rule(s) and the page will load as expected.