Overview
Edit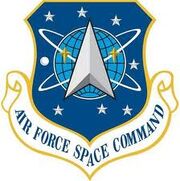 The Air Force Space Command's (AFSPC) mission is to provide resilient and cost-effective space and cyberspace capabilities for the Joint Force and the Nation.
AFSPC organizes, trains, and equips Air Force cyberspace forces to conduct sustained operations in, through, and from cyberspace and fully integrates with air and space operations. It serves as the lead major command (MAJCOM) for Air Force cyberspace procedures and concepts of operations.
Ad blocker interference detected!
Wikia is a free-to-use site that makes money from advertising. We have a modified experience for viewers using ad blockers

Wikia is not accessible if you've made further modifications. Remove the custom ad blocker rule(s) and the page will load as expected.