Overview
Edit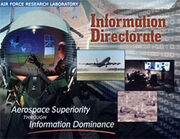 The Air Force Research Laboratory Information Directorate is located in Rome New York. The Information Directorate is focused on basic research and advanced development in the cyber domain. Its diverse workforce is charged with leading the discovery, development, and integration of affordable warfighting information technology capabilities for our air, space and cyberspace force.
Ad blocker interference detected!
Wikia is a free-to-use site that makes money from advertising. We have a modified experience for viewers using ad blockers

Wikia is not accessible if you've made further modifications. Remove the custom ad blocker rule(s) and the page will load as expected.