Citation
Edit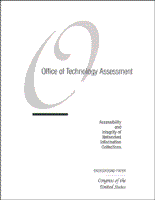 Office of Technology Assessment, Accessibility and Integrity of Networked Information Collections (OTA-BP-TCT-109) (Aug. 1993) (full-text).
Overview
Edit
This report was prepared as part of an Office of Technology Assessment planning activity on the accessibility and integrity of digital libraries, in partial fulfillment of Section 2385 of the Rural Economic Development Act of 1990.[1]
This report takes the perspective of the library community and its users and patrons in examining issues and potential problems facing digital libraries, with emphasis on accessibility, integrity, and the interrelationships between them. The report discusses the technological and institutional measures that can be used to address access and integrity issues, identifies problems that cannot be appropriately resolved by current technologies and/or institutions, and offers views concerning actions by Government and others that will be needed to address them.
References
Edit
↑

Pub. L. No. 101-624.
Ad blocker interference detected!
Wikia is a free-to-use site that makes money from advertising. We have a modified experience for viewers using ad blockers

Wikia is not accessible if you've made further modifications. Remove the custom ad blocker rule(s) and the page will load as expected.