A Policy Framework for the 21st Century Grid: Enabling Our Secure Energy Future
Talk

0
Share
Ad blocker interference detected!
Wikia is a free-to-use site that makes money from advertising. We have a modified experience for viewers using ad blockers

Wikia is not accessible if you've made further modifications. Remove the custom ad blocker rule(s) and the page will load as expected.
Citation
Edit
National Science and Technology Council, A Policy Framework for the 21st Century Grid: Enabling Our Secure Energy Future (June 2011) (full-text).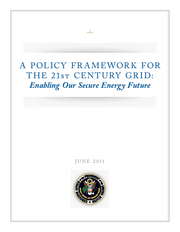 Overview
Edit
This report outlines policy recommendations that build upon the Energy Independence and Security Act of 2007 and the Obama Administration's smart grid investments to foster long-term investment, job growth, innovation, and help consumers save money.
The Policy Framework sets four guiding principles to ensure that all Americans benefit from investments in the Nation's electric infrastructure:
See also
Edit