A Bibliography of Documents Issued by the GAO on Matters Related to ADP
Talk

0
Share
Ad blocker interference detected!
Wikia is a free-to-use site that makes money from advertising. We have a modified experience for viewers using ad blockers

Wikia is not accessible if you've made further modifications. Remove the custom ad blocker rule(s) and the page will load as expected.
Citation
Edit
General Accounting Office, A Bibliography of Documents Issued by the GAO on Matters Related to ADP
Overview
Edit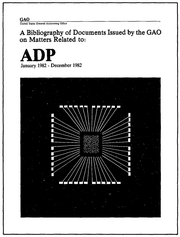 Each bibliography includes information on GAO documents which relate to automatic data processing (ADP). The documents were either released during the designated year or determined to be ADP-related during the designated year. The material covered in each bibliography represents the total ADP-related effort of all the GAO offices and divisions.