Citation
Edit
White House, National Security Strategy (Feb. 2015) (full-text).
Overview
Edit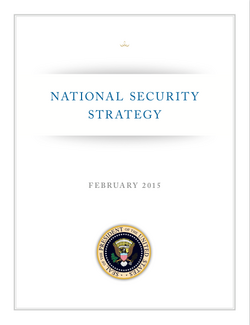 The document states the United States will "defend ourselves, consistent with U.S. and international law, against cyberattacks and impose costs on malicious cyber actors, including through prosecution of illegal cyber activity." The strategy also praises the NIST framework for cybersecurity and promises to work with Congress to "pursue a legislative framework that ensures high cyber standards" for critical infrastructure. The government will also work to develop "global standards for cybersecurity and building international capacity to disrupt and investigate cyber threats." The document also promises to help other nations improve the cybersecurity of their critical infrastructure and develop laws that punish hackers.
Ad blocker interference detected!
Wikia is a free-to-use site that makes money from advertising. We have a modified experience for viewers using ad blockers

Wikia is not accessible if you've made further modifications. Remove the custom ad blocker rule(s) and the page will load as expected.