Citation
Edit
DHS Privacy Office, "2014 Report to Congress 22014 Annual Report to Congress" (Sept. 30, 2014) (full-text).
Overview
Edit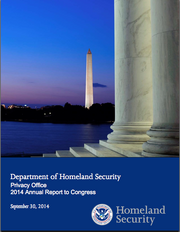 This report, covering the period from July 1, 2013, through June 30, 2014, catalogues the DHS Privacy Office's continued success in safeguarding individual privacy while supporting the DHS mission.
Ad blocker interference detected!
Wikia is a free-to-use site that makes money from advertising. We have a modified experience for viewers using ad blockers

Wikia is not accessible if you've made further modifications. Remove the custom ad blocker rule(s) and the page will load as expected.